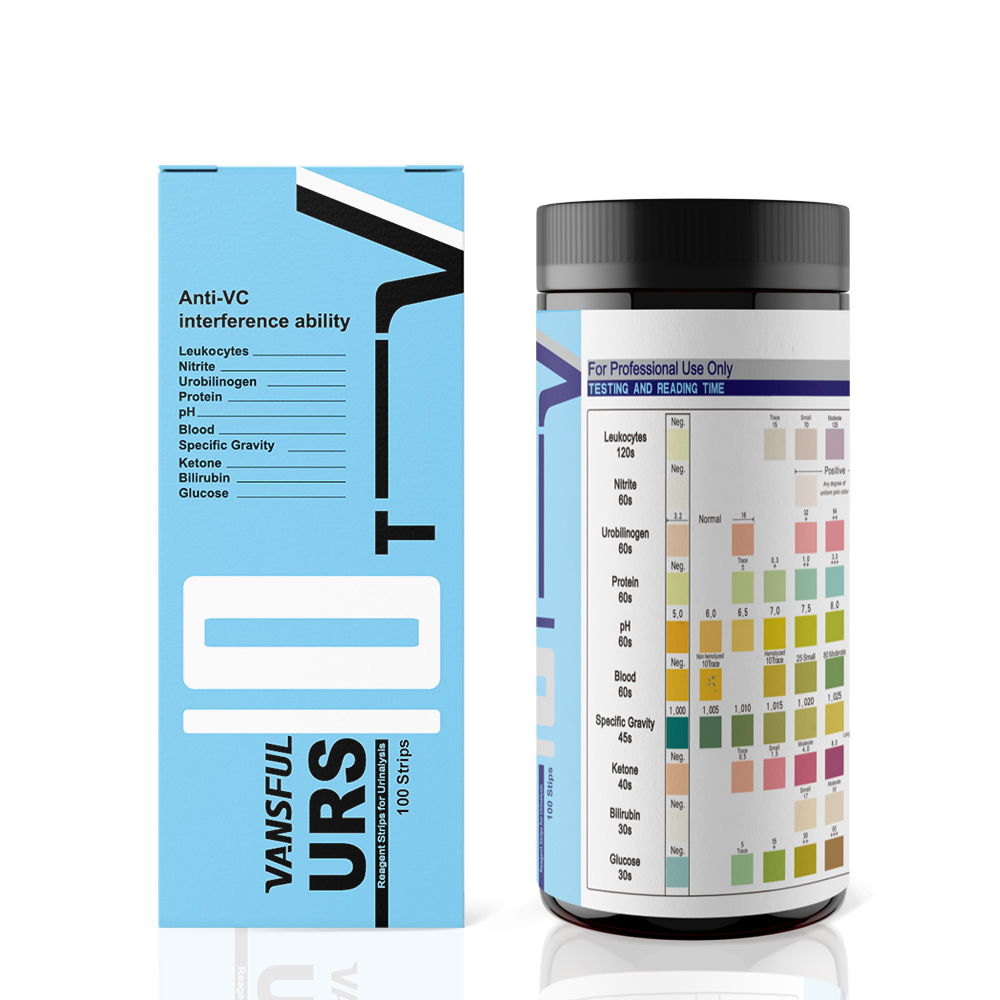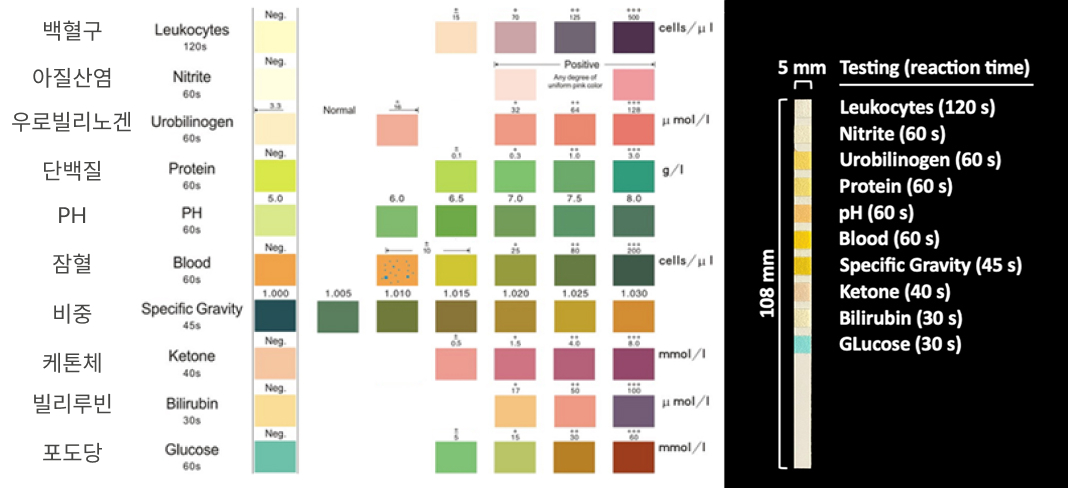 Performance
Anlyzer and visual analysis and sensitivity range
| Item | sensitivity | Analyzer range | Visual range |
| --- | --- | --- | --- |
| 백혈구 Leukocytes (ca cells/uL) | 5-15 | Neg.-500 | Neg.-500 |
| 아질산염 Nitrite (umol/L) | 13-22 | Neg.-Pos | Neg.-Pos |
| 우로빌리노겐 Urobilinogen (umol/L) | 3.2-16 | 3.4-135 | 3.4-135 |
| 단백질 Protein (g/L) | 0.15-0.3 | Neg.-3.0 | Neg.-20.0 |
| pH | - | 5.0-9.0 | 5.0-9.0 |
| 잠혈 Blood (ca cells/uL) | 5-15 | Neg.-200 | Neg.-200 |
| 비중 Specific Gravity | - | 1.005-1.030 | 1.005-1.030 |
| 케톤체 Ketone (mmol/L) | 0.5-1.0 | Neg.-7.8 | Neg.-16 |
| 빌리루빈 Bilirubin (umol/L) | 8.6-17 | Neg.-100 | Neg.-100 |
| 포도당 Glucose (mmol/L) | 2.8-5.5 | Neg.-55 | Neg.-55 |
How to Use
step_01.
step_02.
step_03.
01.

Take out the strip from the plastic bag and immediately close the lid. It is very important not
to touch the pad area with the reagent on the strip as this may affect the test results.
Immerse the reagent portion of the strip in urine and quickly remove it.
02.

Be careful not to mix reagents from other pads by tilting the edge of the strip container so
that the urine flows down or by wiping the dripping urine off with toilet paper.
03.

Check the results carefully by comparing the color chart on the bottle label with the test
strip within the specified time under bright light. The specified time (30-120 seconds) is
different for each test. A color change that appears only on the edge of the test pad or
after 2 minutes or more is not diagnostic. When reading with a device, carefully follow the
instructions provided in the device's user manual. Urine discoloration can cause individual
differences in the visual interpretation of test results.